Cono – agribusiness with sustainability at the heart
Cono is your trusted partner for healthy food production and trading. Learn more about our mission, values and the areas in which we operate.
We are an integrated agribusiness that grows, sources, processes, and exports sustainably-grown agricultural products of the highest quality from Argentina. We supply domestic and global customers in the food industry with a range of protein rich pulses and edible seeds, exporting to more than 50 countries, with full traceability of our products. We also offer a full range of logistics' services. We have our own local processing, storage and distribution facilities and maintain offices in Argentina (Cordoba and Buenos Aires) as well as in Switzerland (Zug), and employ more than 100 staff.
Activities across our value chain give us full traceability and transparency at all times. At Cono, we maintain a strong focus on safety and sustainability in terms of how we care for our environment as well as for our people and the communities in which we operate.
---
What our logo stands for
We chose the image and typography of Cono to represent the fertility of the area in which we are active. The figurative element suggests a human hand, symbolising the endeavour and aspirations of the people who work the land, plant seeds and wait for harvest – always trusting that their effort will be rewarded. The open and receptive hand is to describe the act of giving, offering the fruits of our labour to the world. The open hand is also meant as a gesture of solidarity and support from a company that is committed to the environment and to the society in which we operate. In silhouette, the hand may be seen as an inverted cone representing the silhouette of South America. Our logo can also stand for the profile of a small plant, one that has to be nurtured and cared for by the farmer in an endless cycle of sustainable growth. Finally, in terms of colour, the scale of chromatic green represents excellence in the sector, and a darker shade is used to highlight the form of the hand.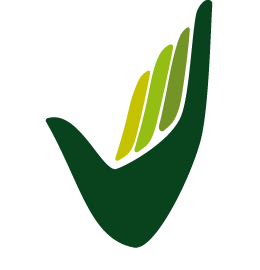 ---