UN Global Compact Communication on Progress Report
September 22, 2021
Cono Group has taken great strides in developing a fully sustainable business model while at the same time meeting key UN Global Impact goals over the past twelve months. Progress in key areas is published in the group's first sustainability report, released this week. The Communication on Progress (COP) report follows the company's commitment in 2020 to support the ten principles of the United Nations Global Compact on human rights, labour, environment, and anti-corruption.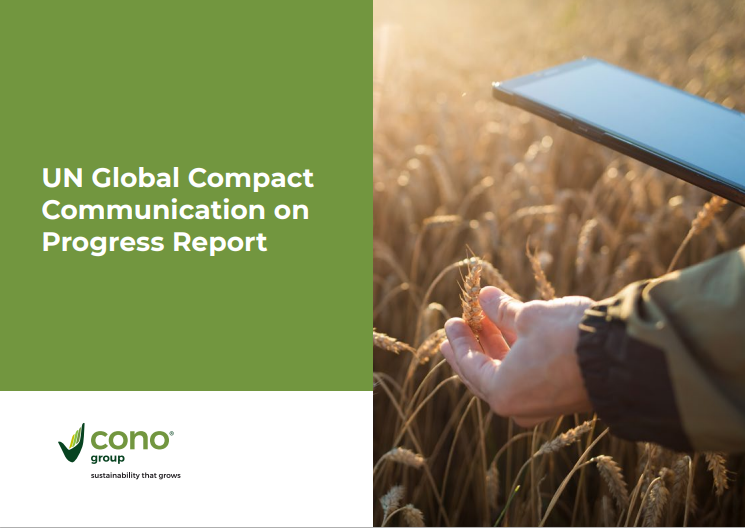 CEO of Cono Group Francisco Balestrini, said the report details steps taken to integrate Global Compact principles into all aspects of the company's business strategy, culture and daily operations and sets out plans for the months ahead. He added: "We are especially grateful to our stakeholders for their support and with whom we continue to build a sustainable business model." The report also includes details of Cono Group´s contribution to meeting 13 of the 17 Sustainable Development Goals (SDGs).
Cono Group president Andres Braun says the group's commitment to the environment is growing stronger every day. The company has invested heavily in research and technological innovations to entrench sustainable farming practices. "Climate change has become a central issue that cuts across all industries and as an agribusiness with a large farming operation, we see first-hand the devastating impact that volatile weather patterns caused by climate change can have on businesses like ours. Healthy soil is fundamental to our business, so protecting and restoring soil is a top priority." He added: "We aim to integrate sustainability into every fibre of our business, from the crops we plant through every process up to and including the shipping of products to customers. There are still many challenges ahead but we continue to work on the next phase which is to leave a better ecosystem than the one entrusted to us."
With great satisfaction for our achievements, we share with you and invite you to read the digital version of Cono Group's first Sustainability Report.